Guest Strip: Back in the day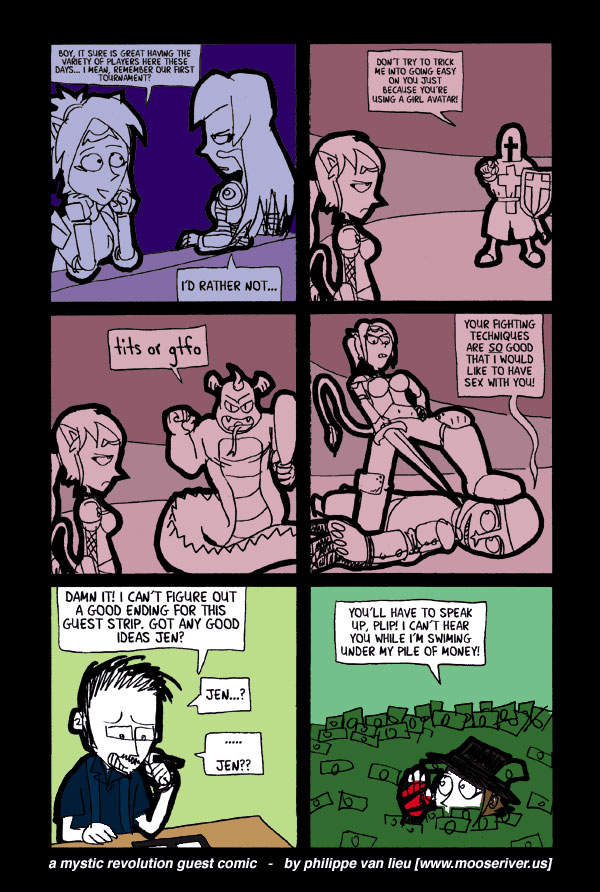 Otakon, HOY!
Thursday - July 28th, 2011 - 23:59:33
First off, supersupersuper special thanks to the always wonderful Philippe("Nick15"³) of Moose River fame for making this super rad guest strip. But just so you know for future reference, we painted the money pool room more of a mauve-ish color for balance ;x
So why no comic? Well, mostly because I am typing this in the past because future me will be at Otakon today(?). So join future me at the convention where lots of exciting goods will be (from the FUTURE), and other cool stuff. I have been told I am a very amiable person, so I am quite happy to hear people tell me how much they love the comic"so much so that I've provided everyone with a handy-dandy map of how to find us!
So yes, that's us in the (a)R(rrrrr) row, that is me and that jerk from flipside, so now you know exactly where to go to yell at me for not delivering a legit page in the last few updates (but be gentle"I do have a delicate female constitution"¦).
I am excited though"Ota's a HUGE show and there's SO many people there and I look forward to lots of offerings of delicious baked goods <3
Mystic Revolution copyright © Jennifer Brazas 2009. All rights reserved.
Admin panel