About the Author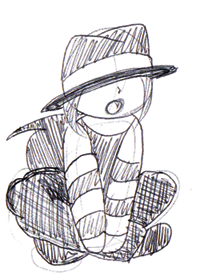 Jen is currently attends art school full time at Chicago's own American Academy of Art. She enjoys writing/drawing Mystic Revolution, reading manga, all the works of Frank Miller, and flying around with a sheet tied around her shoulders yelling, "I AM BATMAN! WHO NEEDS RESCUING!"
In her non-school time, she works as a freelance illustrator. Her portfolio can be found at
Savagesparrow.com
. One day, she hopes that her freelance work will pay for her rabid video game obsession. In the mean time, she'll settle for "borrowing" the games of friends.
If you wanna email me to send me rabid fanboy/girl praises, send a line over to
savagesparrow@gmail.com
. Otherwise, you can try to catch me over AIM with the name Savagesparrow. For all other fanart, love letters, hate mail, and any other oddities you can't fit into an email, snail mail me at:
Jen Brazas
P.O. Box 633
Elmhurst, IL 60126
We check the PO box once a month, so if it's payment for a commission or something from the store, then it's best to send me an email first so I know to look out for it =)
Mystic Revolution copyright © Jennifer Brazas 2009. All rights reserved.
Admin panel