Now that's an entrance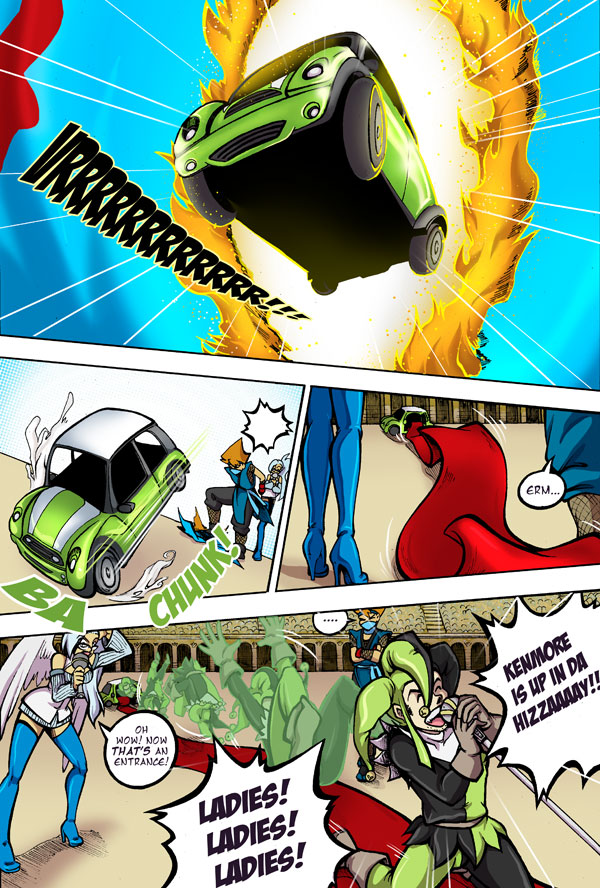 Cars and colors
Monday - September 7th, 2009 - 14:26:00
So yes, for those who didn't see on the Facebook Group, I went to a birthday party yesterday, we got back at midnight, which gave me just enough time to fix my inks up in Pshop and then crash.
For the record, I suck at drawing cars. I think this is like, the third car I've drawn, so I'm sorry that its all outta perspective and stuff (in my defense, there weren't any pictures of the bottom of a Mini Cooper, so I had to take liberties with how it'd look…and that's why the bottom's black because I couldn't even find any pics of the bottom of a normal car x.x ). But, I feel that I should practice drawing cars, since if you do comics that take place in a contemporary setting, sooner or later you gotta draw cars, unless you're a Japanese manga-ka (in which case you can have one of your assistants draw it/them). So I'm going to start practicing…except not in the comic because Kenmore's car will shortly disappear. Its supposed to be a super-tiny car, too, I imagine it to come up to a person's knee, but I kinda didn't think about scale until after I started inking. So oh well.
I do have to say though that I hate doing colors late because I feel more rushed, and consequentially the colors suffer. I think that the first panel I did a pretty good job on (I'm really liking my fire-style rendering), but I think I could've done a lot better with getting the colors to harmonize better with each other. I'm still trying to figure out what color palette to make the background so it doesn't look gross against all the characters and their crazy colors. *sigh*
Now this chick really knows her stuff. If you haven't checked out The Meek, you really must, as her color palettes are just so damn gorgeous it makes me want to vomit (from awesome!).
But yeah, this isn't an "emo" rant or anything at all like that. I'd just like to work in comics professionally (at least, beyond the capacity that I'm working at now) one day, so I try to compare my work against theirs to see what I should be working on. That's all =)
Mystic Revolution copyright © Jennifer Brazas 2009. All rights reserved.
Admin panel