Who's got the strategy now, boss?!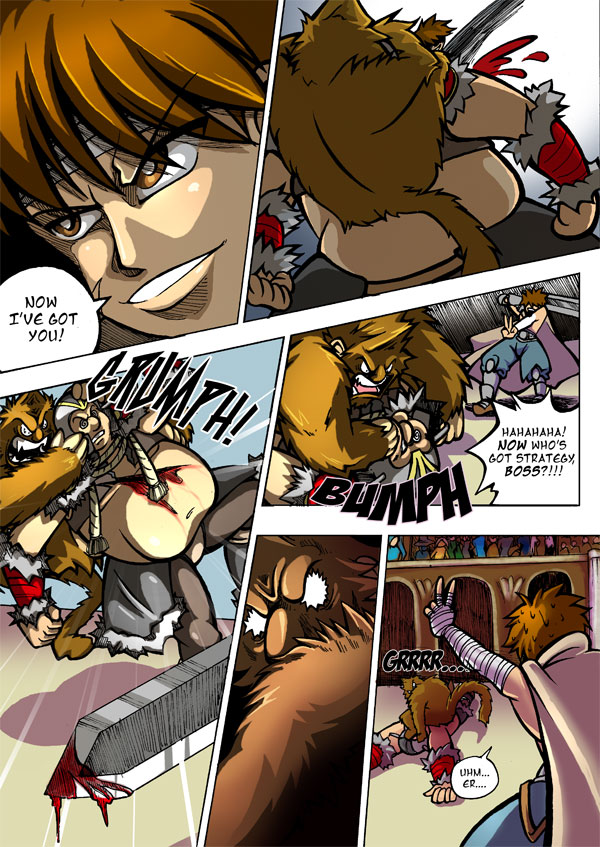 A little rough, but…
Sunday - November 2nd, 2008 - 23:57:45
So my tablet died last Tuesday. It was 8 years old. Just bought a sexy Intuos 3, but it won't arrive until late monday/tuesdayish, so today's comic's a little rougher than I would've liked x.x
Shout out goes to my friend Tetsuya who gave me the kanji for "Demon Monkey Fist" as if I had looked it up it would've been something like "Happy Sandwhich farm" (which I suppose would've had its own sort of fun). I figured it'd be fun to sorta do an "Akuma" pose for the end of this comic, to rip off pay homage to the Street Fighter series.
Anyways, Tetsuya is also an artist and has an awesome website that you all should check out as I've owed him a link for a while. Also, for those of you who got book 2 (and/or remember the bonus story for the short time it was online), Tetsuya was the one who inked the forest in the top panel of the first page of the bonus story….because this bonus story didn't really have any sort of backgrounds like the first one did (where Brion was my background inker. But that's only for the bonus stories! I do all the inking myself for the webcomic… which is probably why it's a little rougher XD
Thus ends the fun facts section! Enjoy! XDD

Halloween!
Saturday - November 1st, 2008 - 12:07:10
Bah, wanted to post a halloween pic but couldn't due to a deadline yesterday (a project due on halloween SUCKS). Anyway though, for your enjoyment, a picture of me and my friend Holly:
That's me as Carrie and Holly as Bulma from Dragonball (as apparently, toriyama originally meant for bulma to have purple hair and a yellow dress). It was a very fun day =D
Mystic Revolution copyright © Jennifer Brazas 2009. All rights reserved.
Admin panel