Wizard World 2008 Report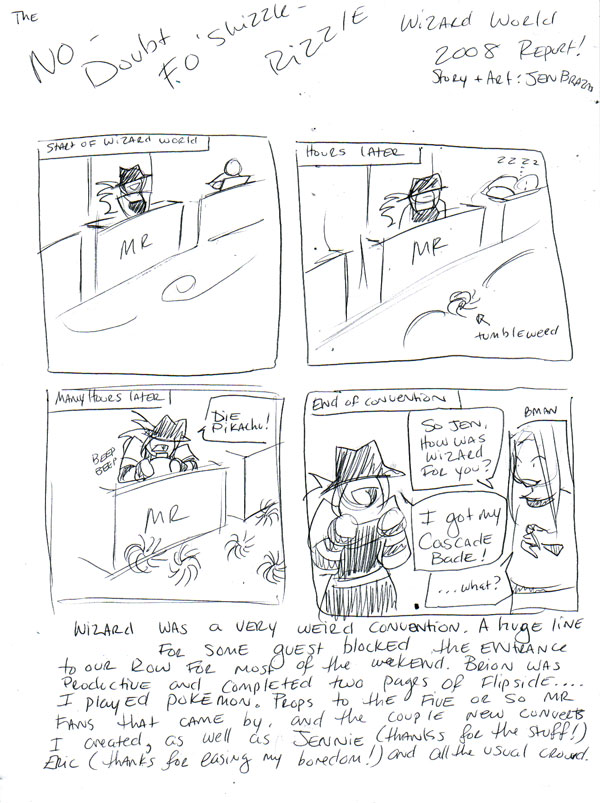 New incentives!
Monday - June 30th, 2008 - 21:19:23
New incentives have been uploaded for July! (I know, right!) They're all sketches and stuff, but it's better than nothin! To see the voter exclusive sketches, please click on the blue TWC button above the newsbox. Everyday is a new sketch, so be sure to vote every day!

Wizard World
Monday - June 30th, 2008 - 18:22:09
Well, business-wise wizard world blew–I just barely made back my table fee thanks mostly to some commissions, and I wasn't able to attend sunday due to a graduation party for two of my cousins. But otherwise it wasn't terrible, I still got to hang out with my comic-making friends that I don't see to often (like Dirk, Spike,
Jane, Paul, and Bman (whose the last guy there in the comic). Also got to meet and hang out with the lovely and talented Jennie Breeden and the not-quite-lovely-but-manly and talented Eric Adams. We also got to go to a carnival!
Mystic Revolution copyright © Jennifer Brazas 2009. All rights reserved.
Admin panel