Don't make me go easy on me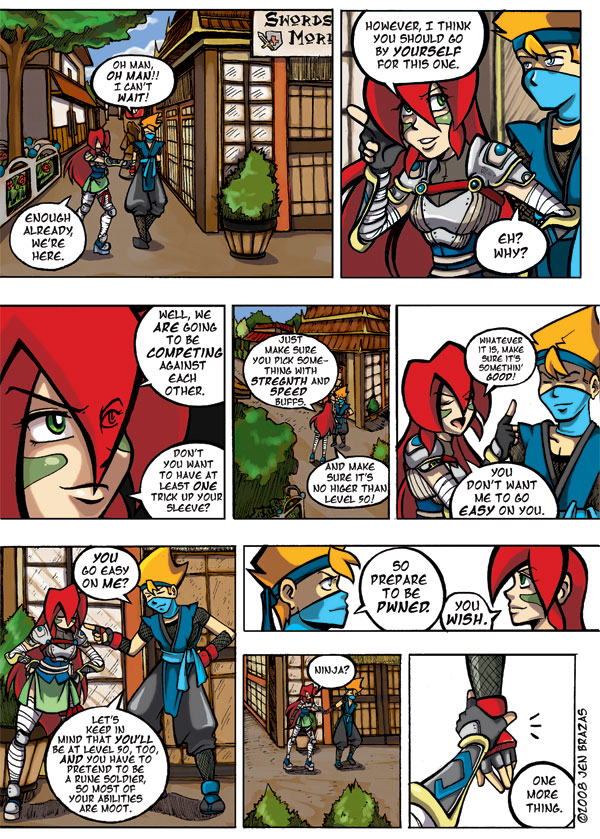 Commentary
Sunday - June 22nd, 2008 - 23:57:05
Sweet gesture, or cunning psych-out technique? You decide.
But thus, the build-up is over, actual tournament starts next week (really!), as Friday is the exciting cover-page for the next chapter.
I will be appearing at Wizard World Chicago this weekend, so be sure to check out my table at the Artist's Alley. I don't think I'll have the Cleric Shirts this weekend since I just recently reordered them, and I'm not entirely sure if I'll have book 2 since I've just been informed that they'll most likely be showing up this weekend or the start of next week *growl*
But, at the very least I'll have the sample books that I got so that everyone can see and flip through them. So at the very least those of you who've pre-ordered already can check it out and know that it exists X.x
Oy, what a weird month this has been. I seem to have some weird perpetual throat problem, like a strep-thing-minus-the-fever, and it's been bothering me for a week so far without getting better (I know it's not your average throat issue because my neck's really sore to the touch too….). I scheduled a doctor's appointment, but apparently she's "popular" so I have to wait two weeks. Though I guess it's a good thing she's popular right? That means she's a good doctor? X.x
Anyway, I'm going to try to make it my goal to respond to all my backed up email and all of you wonderful people who've donated stuff. Since it looks like I won't get a new wallpaper up before July, I'll just let this month's donators get May's and July's wallpapers. Sorry about that x.x
Mystic Revolution copyright © Jennifer Brazas 2009. All rights reserved.
Admin panel