The perils of a sneak attack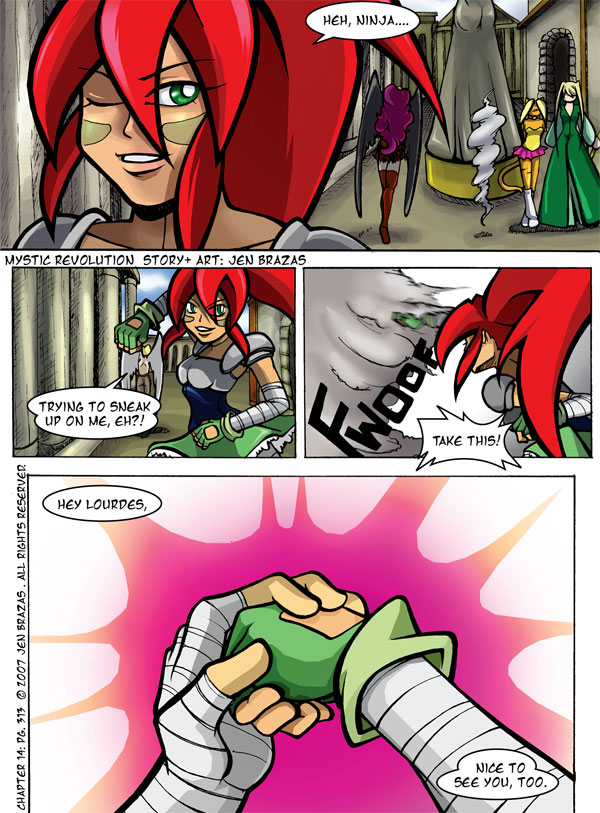 Verbal Fornication
Sunday - June 17th, 2007 - 23:57:06
First of all, don't forget that tomorrow's the last day of the ToastyAuction, so show some love and give the poor guy a home (or the penguin will come after you and eat your first born. (because it had to be said)).
Second, a while ago I really wanted to someday have Aeiryn say the phrase "verbal fornication", because, well, I think the concept is amusing and it's totally something she'd say. Many pages have gone by since that day, but at last, the day has come (today) where she has said the line in the comic! Yay! *suddenly realizes people out there reading probably aren't as excited as she is*
Moving on, I'm probably the ONLY one out there (aside from horny 13 yr. old boys), who's actually interested and looking forward to seeing the Dead or Alive movie. Watch the trailer–it looks AWESOME, especially that first scene. See, I really can't help myself sometimes–I really, really like ridiculously over-the-top mad-stupid crazy films. And this looks like it fits the billing. Plus, it has hot chicks, fighting, bikinis, a vollyball game, and
Miho. Exactly what a video-game movie should have! *glares at BloodRayne*
Finally, I'll be reprinting the shirts on tuesday, and I'll be making a couple in XXL (as well as reprinting the sold out XL). I also got advanced copies of the reprinted books in the mail on Friday, and they look GREAT (I mean, even better than the screwed up ones, wow x.x ), so hopefully the rest of the shipment will be making an appearance this week *crosses fingers*. Once the books do show up, I'm gonna be taking off the mini-comic collection and the old posters from the store, so if you ever desired either of them, now's the time.
Speaking of posters, I'm probably going to make a super awesome big poster (like, movie poster size) for the upcoming conventions. Haven't decided on a composition yet, but I'm excited anyway! =)

News!
Friday - June 15th, 2007 - 11:12:25
First of all, a new auction. This one features Toasty, so be sure to check it out! Poor guy hasn't been in the comic for a while, so this is my gift to his many fans! Remember, all auction proceeds go to the happy Convention Travel fund, so good times!
Second, we've dropped out of the 20s! That's really depressing! Keep voting guys!!! For those of you who may be new to the site and unsure of this whole voting thing, simply click on the little blue TWC button above this newsbox. Follow the prompts, and you'll be led to a secret, voter only area where you get to view a voter-only comic! Every day yields a new panel in the comic, so only by voting every day will you get to see the next part of the story! =D
Don't forget the contest, too! I'm really looking forward to seeing some entries =)
Lastly, if anyone happens to be really good at Halo 2 and wants to join our Webcomic Challenge team at Connecticon, send me an email! Only requirement is that you have to actually be at the convention. We'll take anyone with any halo experience (or general Xbox experience), as none of us owns an Xbox, and I haven't played Halo for like……4 years. Also, we'll take people who want to help out with the scavenger hunt. If we end up winning the contest (or at least placing), then all who helped out will get a free signed book!
Mystic Revolution copyright © Jennifer Brazas 2009. All rights reserved.
Admin panel