Guest Strip: His side/Her Side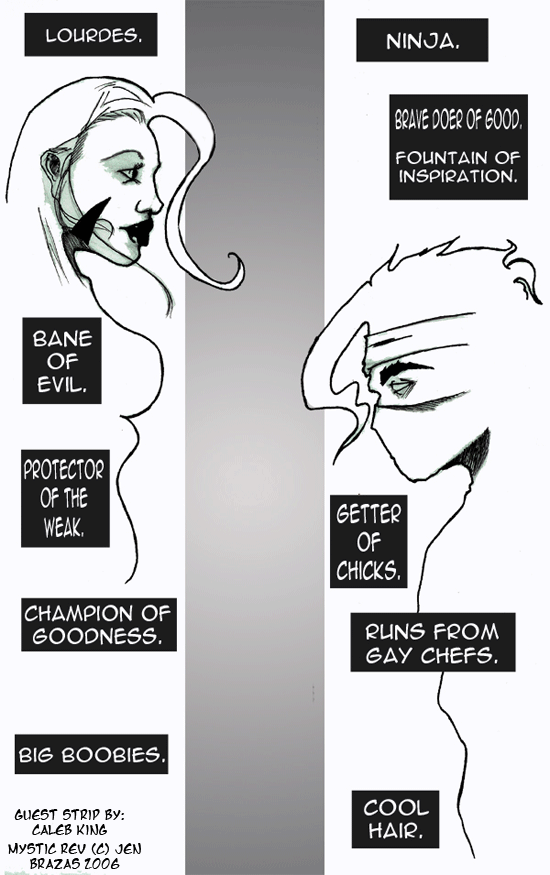 Guest Strip 2!
Thursday - July 20th, 2006 - 23:57:43
This awesome strip of awesomeness was done by my buddy Justin. Be sure to check him outv here! He's got many sexy and awesome 3D stuffs, and eventually he'll have a webcomic! Yay!!
Confused about the penguin? Re-visit the archives over here and refresh your memory!
Also, we're still hanging out here at booth D12, so be sure to stop by!!

Oh yeah!
Wednesday - July 19th, 2006 - 17:40:08
Forgot to mention to everyone that we'll be at booth D12. It's not in the small press area, but rather in the little exhibitor area with the purple curtains. Just look for the purple curtained area (if you walk through Entrance B you can't miss it) and swing by. Remember–D12, just like the rap guys (they =are= rappers, right? X.x )!
So yay for being live in San Diego!!!

His Side/Her Side
Tuesday - July 18th, 2006 - 23:57:45
Sexy guest strip done by my buddy Caleb! Here's his deviantart account!
Mystic Revolution copyright © Jennifer Brazas 2009. All rights reserved.
Admin panel