Teams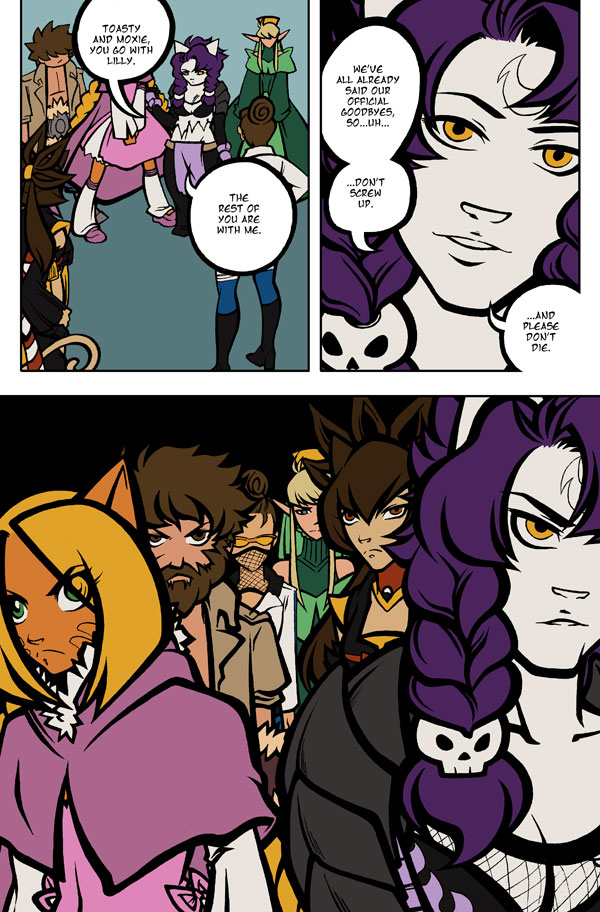 Update
Friday - October 28th, 2016 - 8:35:00
So. Everyone's been asking about the comic and what happened to me and whatnot. I hadn't posted because I wasn't sure how to properly express myself, nor what I really wanted to do.
But the gist of it is that I stopped updating Mystic Rev in January because working on it was making me more and more depressed. This sounds awful. But I think I had just been working on the series so long that it shifted from passion project to more of a job…only…a job that didn't support me financially. So it became harder and harder to justify the massive amounts of work put into it…which translated to making it harder and harder to force myself to make pages. Pages went from taking a day or two to complete to over a week. And that is when I decided to stop.
I started Mystic Rev when I was in high school, and at this point, I am a different person. I really love designing clothes and nerdy things for people to enjoy. And its how I make my living at this point. Working conventions and maintaining the schedule for the comic was just too difficult, and burning me out creatively and emotionally.
Will this mean the comic will never be completed? No. I do want to end the series properly–that is still a desire I have and I feel that because it has been over 10 years of my life it should have an ending. But it will likely happen sporadically when I am able to do so in my free time. Hopefully soonish now that convention season is dying down finally.
I basically just want to get back to a place where making comics becomes a passion project again…instead of a grueling one. So I am sorry if this disappoints those of you who love my work. But ultimately it really is for the best. =)

siiiick…
Thursday - January 7th, 2016 - 15:40:12
Ugh. I think I am getting sick again. To the doctor's tomorrow with me….bed for now…yay….

Will be colored later
Sunday - December 27th, 2015 - 20:53:57
Rrrrgh. Got sick and then christmas happened and now I think I'm getting sick again, hrrrrghhhh…!!! ;_;
Mystic Revolution copyright © Jennifer Brazas 2009. All rights reserved.
Admin panel