Hold onto your butts!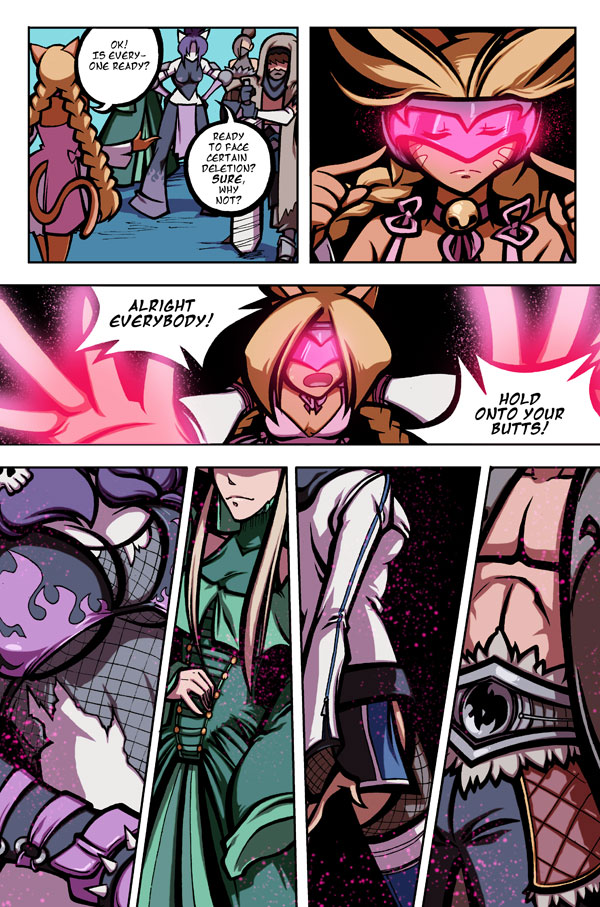 LARPing
Monday - August 31st, 2015 - 0:11:49
So this comic made due to 1. wanting to record the LARP pitfalls I ran into in a comic form and 2. having a surprisingly busy weekend that prevented me from making a proper page. So huzzah for two birds, one stone!
So yeah, this is the full story of the Gencon LARP. We had basically made my character on the ride over from Chicago to Indy, so like, I didn't read any of the book before doing it aside from Ashton asking me if I agreed with which skills he was putting down on the sheet or not. So I was already pretty nervous going into it–the only thing I knew about LARPs were that those were the games where people hit each other with foam swords and stuff. I didn't really know anything about V:tM other than a friend of mine played a crazy Avon Lady vampire in her game in college…so…All I knew was that you could be either a gothic stereotype or an Avon Lady. Pre-conceptions are funny.
So yeah, Michael's character was basically built around the idea of shutting down shit via paperwork and bureaucracy. Which we all found amazing. So we were super hyped to act as his entourage and carve out our own action. But….things didn't really work out. So like, new player who's already nervous about gaming with strangers and being completely unfamiliar with the setting gets elected boss of the coterie. It. Was. Terrifying.
Like, everyone was super nice (in our clan at least), but they all kept mentioning all the people who were trying to kill us. And then I got lectured by one of the people who really wanted to kill us. And then some of our guys nearly got killed when some jerkbags framed us. It was very, very tense and I had no idea what was happening other than a lot of people were really mad at us for reasons I didn't really get. So the first couple hours were me basically running around with a perpetually panicked expression trying to figure out what the hell was going on.
The Princely table I thiiiiink had 3 Princes, their harpies and various primogens (so a lot of important people). I kind of sat there for about 10 minutes since Michael abandoned me as he's a liar before I just abruptly jumped up and said "I HAVE TO LEAVE!" in a very strangled voice. Luckily everyone mostly ignored me.
But yeah, our whole goal was to get shit shut down via bureaucracy! And while it wasn't bureaucracy, it was legal actions, we actually did shut something down! And we did a little dance and it was great.
So yeah, I've gotten into the game over here cuz playing at Gencon was really fun once I figured out how to actually do things. And thankfully here in Chicago, people actually kind of like the Giovanni… xD
Mystic Revolution copyright © Jennifer Brazas 2009. All rights reserved.
Admin panel